UWC Dilijan
194 Students
Aged 16 - 18 years
3 March 2017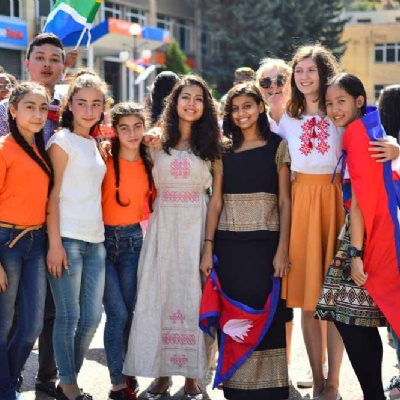 The idea of creating the College was conceived by social entrepreneurs Ruben Vardanyan and Veronika Zonabend back in 2006. Their initiative was then joined by nearly 300 donors from across the world. In October 2014 UWC Dilijan officially opened its doors to 94 pioneer students, becoming the 14th UWC college.
Dilijan lies on the road connecting two modern large cities, Yerevan and Tbilisi, in a country that is situated on the border of Europe and Asia, at the heart of the diverse, culturally rich and complex region with a long history at the junction of the Persian, Byzantine, Ottoman and Russian Empires.
Three Unique Features
Educational Hub - One of the foremost objectives of the College is to continue contributing to the development of the region as an educational cluster, which, in turn, fosters education throughout Armenia.
Conflict Resolution - Due to its geopolitical location, studying at UWC Dilijan is a unique opportunity for those interested in gaining experience in conflict resolution and peace initiatives.
Glocal Approach - We believe in "glocal", that is, our aim is to be globally relevant but anchored into the local reality. We create an environment of understanding other cultures and celebrating diversity.

Outside the Classroom
The co-curricular program at UWC Dilijan consists of 4 elements – the Creativity, Activity, Service (CAS) program, Project Weeks, Focus Weeks and Cultural Weekends.
UWC Dilijan students cooperate with various NGOs - for example, the local kindergarten - with a view to designing projects that are beneficiary both for the Dilijan community and themselves. The cooperation with local NGOs helps the students overcome obstacles such as language barriers.
Art-related activities at UWC Dilijan are diverse and impactful and aim at fostering creativity and non-standard thinking: from exploring the world dance styles to programs like "Art in the Community".
UWC Dilijan's Outdoor Education Program includes hiking trips, skiing and caving expeditions and often involves participants from Dilijan and the neighbouring villages to foster exchange, access to nature and environment related programs.
Campus and Facilities
Boarding houses at UWC Dilijan offer superb facilities for studying and living. Students have access to the gym, an indoor pool, a sports field including football and volleyball pitches, tennis, squash and basketball courts. Campus facilities include library and resource centre with Integrated IT facilities; dining hall; medical centre; black box performance centre; ceramics workshop. Renewable technologies were employed for the construction of the campus including harvesting of natural springs, using rainwater for irrigation and recycling of greywater.
Geographic Setting
UWC Dilijan is located in the valley of the 16th century town of Dilijan, on the outskirts of a large national park in central Armenia, 100 km away from the capital Yerevan.
Contact Details
---
UWC Dilijan
ARMENIA 7 Getapnya Street,
3903,
Dilijan